ENGEL LEONARDO
Manoguayabo
solo exhibition
jul 13 - ago 31 / 2019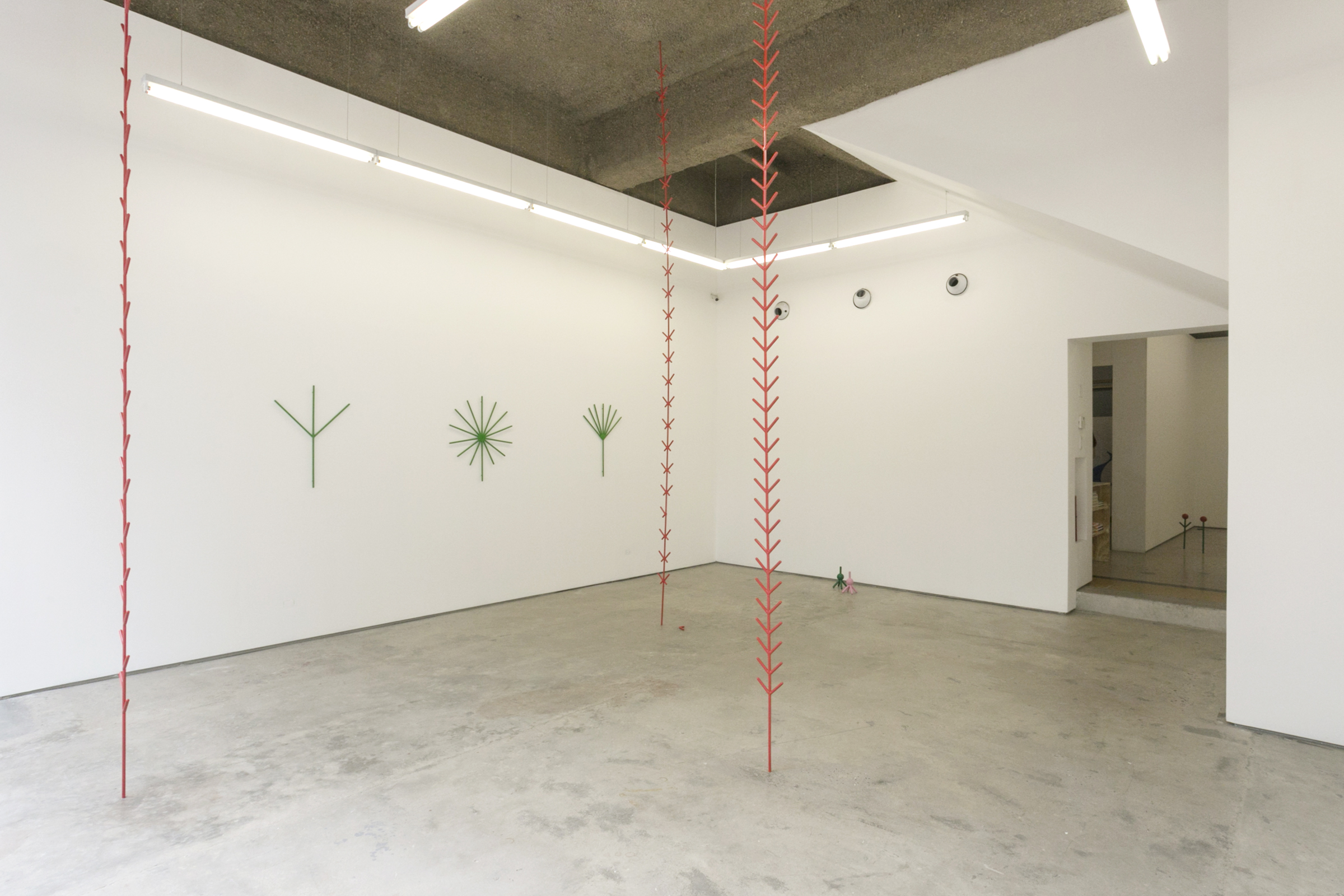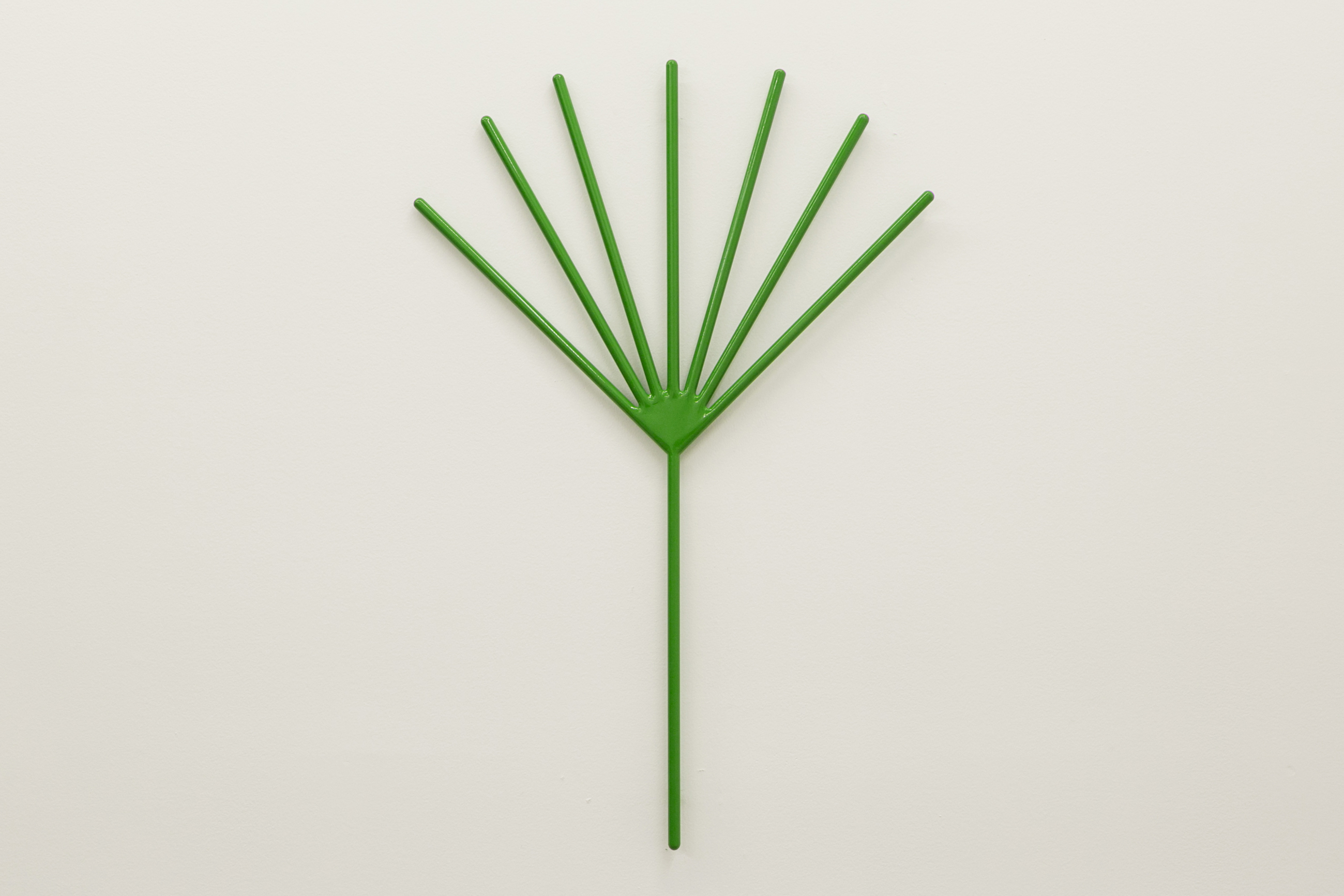 Photos: Raphael Salazar




Diablo Rosso is pleased to present "Manoguayabo", a solo exhibition by Engel Leonardo (1977).

The relationships between the human and history, architecture and material culture are some of the central interests of Engel Leonardo's work. Their production is usually based on research on modern tropical architecture, histories repressed by modernity, and the transmission of indigenous and African knowledge through objects generally seen as artisanal, folkloric or ethnographic.

In "Manoguayabo", the works use as a starting point their research on the work of Flavio de Carvalho and Lina Bo Bardi, as well as the painting "O lago" by Tarsila do Amaral and the traditional Dominican egg kill. Creating a conversation with the viewer, which develops through the use of structures of geometric character and modernist descent, Leonardo seeks to reinterpret elements of the nature of the Caribbean and the tropics; a reduction of shapes, colors and relationships that account for an immensely rich but equally complex context.

Born and based in the Dominican Republic, the artist is especially interested in architectural and artisanal descriptions that display notions of "tropicality", modernism, indigenous culture and Afro-American culture. Engel Leonardo graduated from the Faculty of Arts of the Autonomous University of Santo Domingo, and his work is part of important public and private collections, such as the Guggenheim Museum and the Reina Sofía.




Diablo Rosso se complace en presentar "Manoguayabo", una exposición individual de Engel Leonardo (1977).


Las relaciones entre lo humano y la historia, la arquitectura y la cultura material son algunos de los intereses centrales del trabajo de Engel Leonardo. Su producción suele basarse en investigaciones sobre arquitectura moderna tropical, historias reprimidas por la modernidad, y la transmisión del conocimiento indígena y africano a través de objetos generalmente vistos como artesanales, folclóricos o etnográficos.

En "Manoguayabo", las obras utilizan como punto de partida sus investigaciones sobre el trabajo de Flavio de Carvalho y Lina Bo Bardi, así como la pintura "O lago" de Tarsila do Amaral y la tradicional mata de huevos dominicana. Creando una conversación con el espectador, que se desarrolla a través del uso de estructuras de carácter geométrico y ascendencia modernista, Leonardo busca reinterpretar elementos de la naturaleza del Caribe y el trópico; una reducción de formas, colores y relaciones que dan cuenta de un contexto inmensamente rico pero igualmente complejo.

Nacido y radicado en la República Dominicana, el artista se interesa especialmente por las descripciones arquitectónicas y artesanales que despliegan nociones de "tropicalidad", modernismo, cultura indígena y cultura afro-americana. Engel Leonardo se graduó en la Facultad de Artes de la Universidad Autónoma de Santo Domingo, y su obra forma parte de importantes colecciones públicas y privadas, como la del Museo Guggenheim y el Reina Sofía.

Tuesday - Saturday
1-6pm
Sunday
11- 4pm
Closed Monday